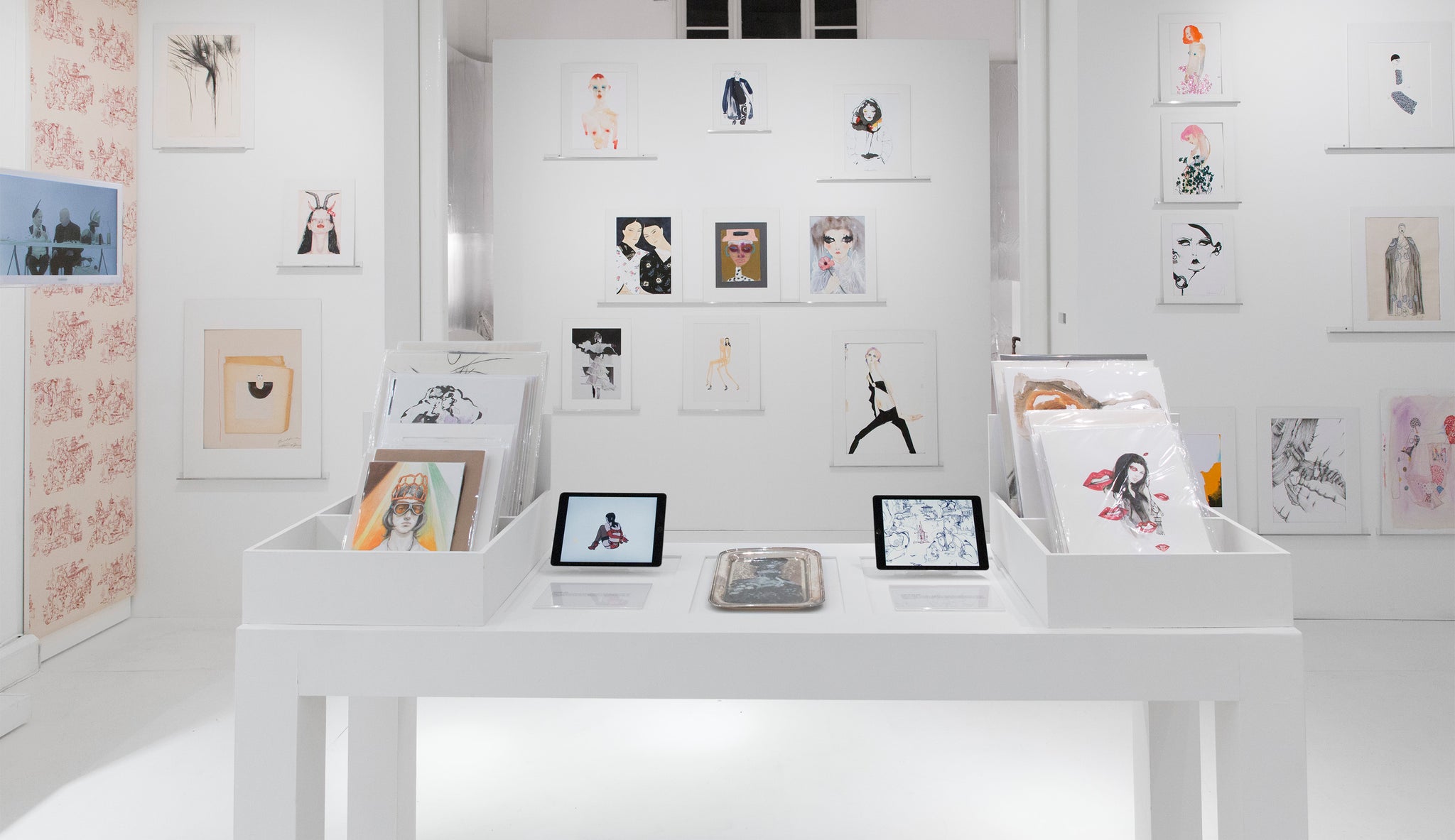 This exhibition explores SHOWstudio's long history of championing and showcasing fashion illustration, exploring how the medium can translate across various different formats and can be produced using a variety of different techniques and technologies. This exhibition launches SHOWstudio's gallery as a space that unites illustration with film and photography. The exhibition serves as a broad survey of SHOWstudio's illustration archive, encompassing works from as a far back as the early 2000s right through to today and spotlighting illustrators who work in unusual manners, while also questioning what illustration can be.
Various films, featured in the exhibtion include, #StyleShootDraw, 2016, which, on 30 June and 1 July 2016, saw SHOWstudio undertake its first ever Facebook Live broadcast. The stream, a collaboration with GARAGE, encompassed a high fashion photoshoot and a luxury life drawing class. Nick Knight shot models such as Molly Bair and Ruth Bell, while 20 of the world's top illustrators rendered them in paint, pencil and ink.
Bellwether, 2003
In 2003, Nick Knight was commissioned by the CFDA to celebrate the growth and success of the Alexander McQueen label and Lee McQueen's CBE. A film of McQueen illustrating a selection of his designs appeared on SHOWstudio at the time, titled Bellwether. This new edit, from SHOWstudio's 2015 Unseen McQueen series, features exclusive footage of the designer sketching looks from his A/W 03 Scanners and S/S 03 Irere shows.
J.W. Anderson Spring/Summer 2013, 2012
As part of our live coverage of his Spring/Summer 2013 womenswear collection, Jonathan Anderson sketched all the looks from his collection, titled The Treatment Room, live on camera at SHOWstudio. This edit shows the designer at work.
Finger Painting, 2013
To celebrate Stephen Jones' issue of A Magazine Curated By, SHOWstudio gave viewers an exclusive peek into the milliner's artistic world with an illustration themed stream. Jones' friend Marian Newman conjured up the world's first nail nibs, which gave print doyenne Celia Birtwell the power to produce inky lines straight from her fingertips. The drawings went on to appear in print in the magazine.
Fergadellic, 2000
One of SHOWstudio's first forays into illustration and animation, this film lets viewers experience cult illustrator Fergus Purcell's sketchbook drawings as animation. A bejewelled declaration that 'I want to believe' signposts the journey, which introduces a world of dominatrixes with Elvis on their mind, an Incredible Hulk in King Crimson T-shirt and a variety of idiosyncratic pop-o-cultural trinkets and postulations.
Stephen Doherty's Couture, 2014
SHOWstudio is known for inviting artists and designers into the studio to showcase their working process live on camera. With this tradition in mind, in July 2014, London-based artist Stephen Doherty took up residence to draw haute couture looks from the Paris Autumn/Winter 2014 couture shows straight onto our wall. The making of the artwork, with Doherty drawing looks from houses such as Dior, Vionnet and Chanel, can be viewed in this edited process film.
Forget-Me-Not, 2002
Inspired by innocent Toile de Jouy - but offset with Japanese rope suspension bondage - Peter Saville and Julie Verhoeven collaborated to create intricate, interactive 'wallpaper for the computer'. Inviting the viewer to 'stroke' the imagery to access deeper, darker layers, Forget-Me-Not counters the notion of passive consumption of pornography, demanding interaction for stimulation. A physical wallpaper is available for sale.