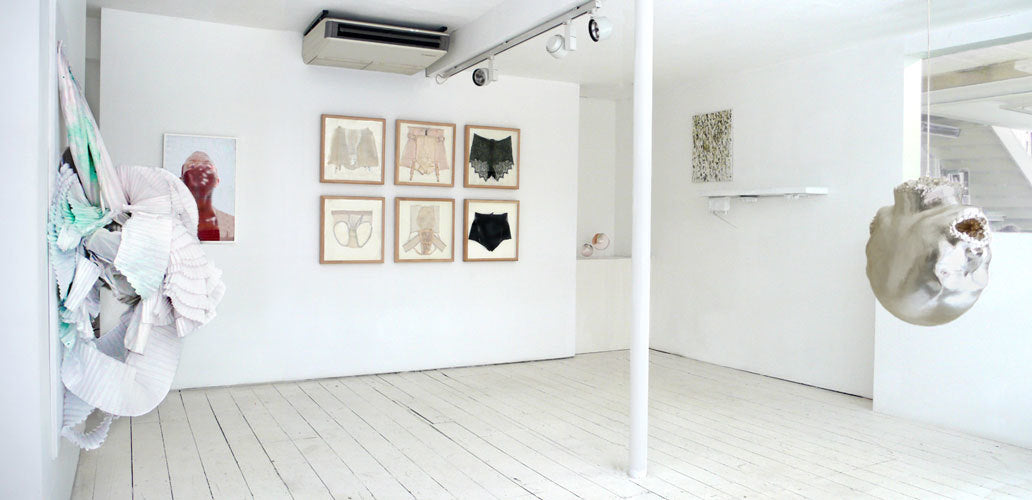 The use of abject imagery in art and fashion can be traced throughout history. The Dadaists were of course enthralled with transgression and taboo but since well before the Renaissance, painters expressed a fascination with blood. When the Whitney Museum gave the movement a name in 1993, recent experiment gained more viable traction. Radical artists like Andres Serrano and Helen Chadwick started working with bodily fluids and fashion designers including Hussein Chalayan and Alexander McQueen started representing death, trauma and decay.
It is from this point that Inside/Out departed. Where the visual language of the early 90s was dark and obscuring, all of the works in this exhibition thrust elements that are typically kept on the inside onto the outside and aestheticised them. Where Marilyn Minter and Ariana Page Russell made physiological reactions larger than life, Naomi Filmer, Shaun Leane, and Professor Helen Storey literally give us a chance to see inside ourselves, using body parts and internal organs as visual fodder. Where Terence Koh and Dan Colen transgressed propriety engaging with the scatological in their formal compositions, Amie Dicke snipped the bodies of movie stars and fashion models into a thin web of contours.
Curated by Nick Knight and Carrie Scott the pointed content that made up Inside/Out demonstrates how abjection serves as a means to symbolise liberation from the confines of commerce and norms of representation and, consequently makes space for a new aesthetic of beauty.
Additional artworks and artifacts by major artists and Fashion houses that related to theme of the exhibition were subsequently added throughout the run of Inside/Out.
In tandem with the physical exhibition, SHOWstudio.com also broadcast performances from the LiveStudio in Bruton Place by Amie Dicke, Millie Brown and others. Objects made during the LiveStudio were then also displayed in the Shop.