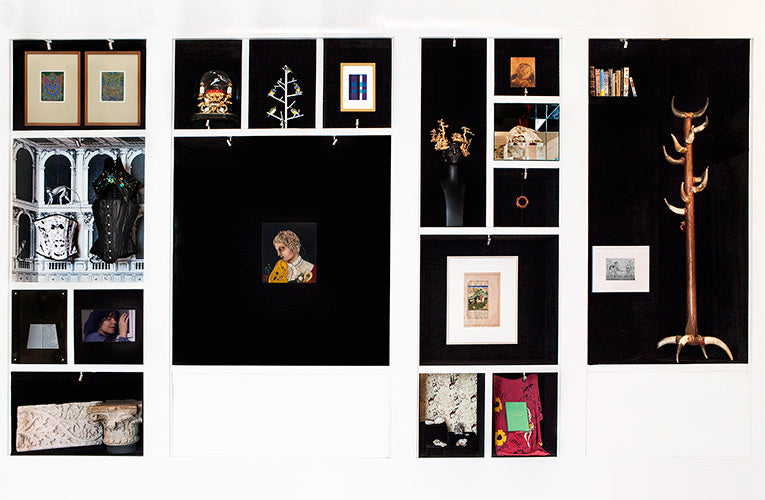 Anj Smith's paintings do not succumb to easy categorisation. A single golden hair painted minutely, is as likely to appear as a rock face hacked from crude impasto slabs. While the composite elements in her works are not inherently magical or fantastical in themselves, when piled together in sheer layers of paint, they acquire a mystic quality as though extracted from hallucination, intoxication or psychosis. For her SHOWcabinet exhibition, Smith created a wunderkammer spilling with the vestiges, mementos, relics and artefacts that combined to inform her meticulously executed worlds.
Smith's painting Apparatus (2012) marked the centrepiece of the project. Ethereal, androgynous and with rouged lips, her sitter's pallid complexion and soft features are crowded with facial hair, dark eye circles and blue veins. Smith's muse is exquisitely attired and has seemingly constructed an armoured veneer from found debris. Embroidered drapery is ornamented with obscure embellishments that have possibly been sourced from the surrounding wilds. Wriggling beetles and insects were clumsily stitched into place alongside grasses, a jewelled Chanel brooch and a bonzaied corpse flower. Clawing bats nest in the hair amongst feathers, fauna and shells that are lodged precariously into place.
Smith's exhibition featured a wide array of objects that served as a reference point for her work. Nick Knight's monumental Flora portfolio features 15 prints that are representative of the arresting diversity in botany. Richard Dadd's handwritten manuscript The Elimination of a Painter and its Subject-called the Fairy Feller's Master Stroke details the schizophrenic 'spirit' inspiration he received whilst recovering in Bedlam. Plant-inspired relics from Mediterranean temples jostle with androgynous corsetry. 17th century Mughal masterpieces were juxtaposed with a capsule library and glittering figeater beetles fossilised in 70's neon perspex. Detritus, Smith's 2009 Liberty print, also featured, alongside Philip Treacy's intricately hand carved Chinese Garden headdress and Yoshiki Hishinuma's waxed plastic wind coat. Amongst objects lent directly from Smith's studio were grains of Stromboli's black volcanic sand, a skull found on the Isle of Mull and a treasured painting of a monkey.
Smith also released a limited edition etching to coincide with the opening of the show.
Artists featured in the show include Anj Smith, Christopher Orr, Duncan Cheetham, Louis Wain, Maison Moginot, Nick Knight, Philip Treacy, Richard Dadd, Yoshiki Hishinuma
Special thanks to Amrita Jhaveri, Bethlem Museum of the Mind and the Bethlem Art and History Collections Trust, Daphne Guinness, Fardokht Khorsandjamal, Hauser & Wirth, Honor Art, the Isabella Blow Foundation, Fossils London, Les Couilles du Chien, London Taxidermy, Milk Concept Boutique, Prahlad Bubbar, Rupert Wace Gallery, The Society Club