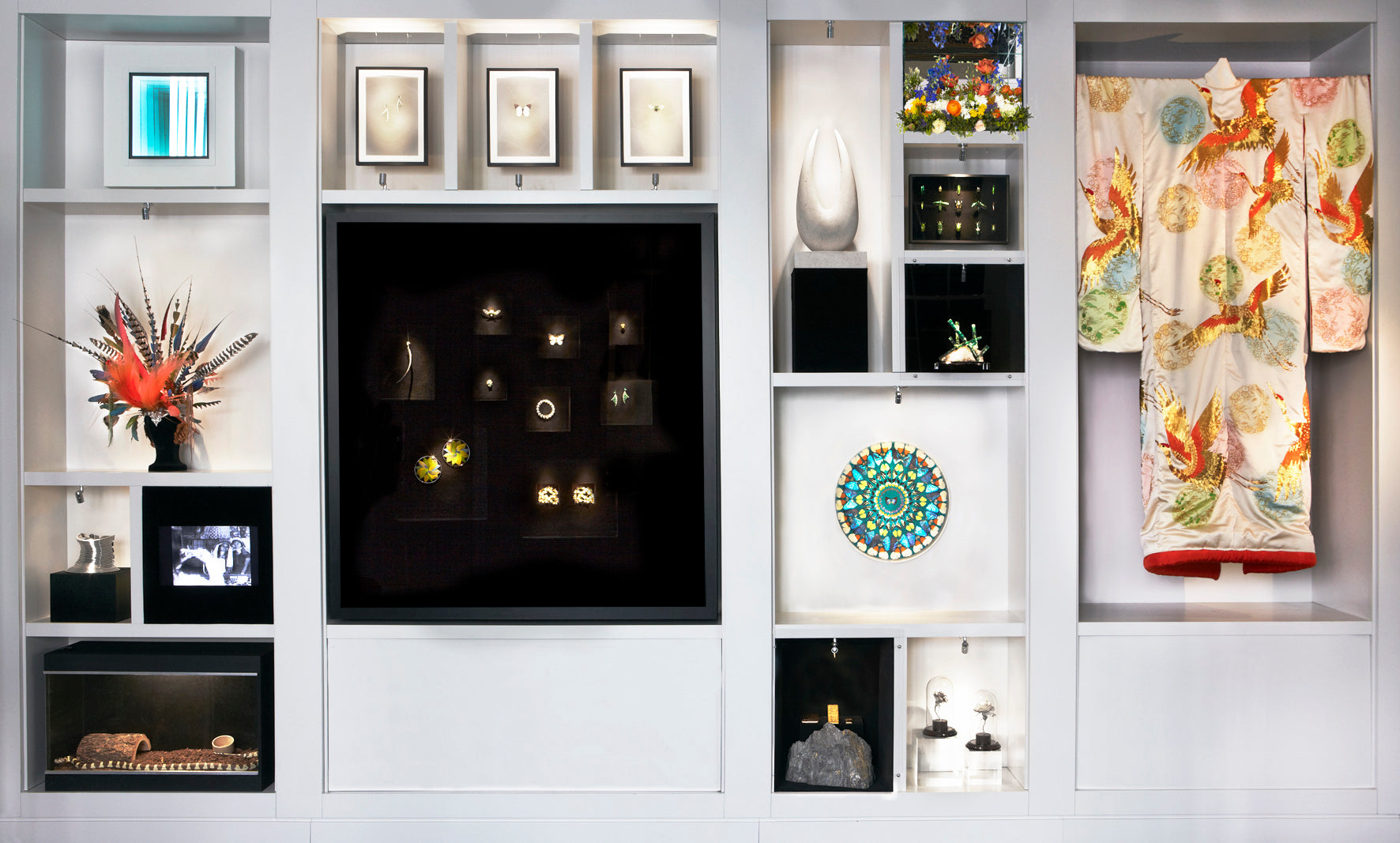 SHOWstudio launched the first major exhibition dedicated to fine artisan jeweller Shaun Leane. The show offered an unprecedented opportunity to delve into the psyche of Britain's leading avant-garde jewellery house and debuted nine highly imaginative bespoke creations that each represented a key motif from their collections.
The gallery transformed into a chamber of curiosities with each piece of jewellery being accompanied by an artwork, fashion piece or natural history specimen that has served as an inspiration to the house.
The show featured a finely crafted single diamond tusk earring as an ode to Leane's very first creation that was debuted on Alexander McQueen's catwalk in 1994. Also presented alongside, was a vibrant gem set butterfly brooch inspired by an original Damien Hirst painting, an elaborate pair of feather hoop earrings with a Philip Treacy hat, and some stunning emerald earrings accompanied by a raw, natural emerald named the 'Medusa'. An artwork by Korean light sculptor Ahn Chulhyun inspired a new aurora ring and an antique kimono from the archive of Daphne Guinness was the impetus for a set of statement cherry blossom cuffs.
Highlighting Leane's unparalleled ability to combine exquisite metalwork with innovative design, the exhibition served as a visual spectacle of artisan jewellery.
Artists include Shaun Leane, Su Blackwell, Ahn Chulhyun, Luke Dickinson, Damien Hirst, Martino Nicoletti, Philip Treacy
Special thanks to Daphne Guinness, Gemfields, James Caudwell and London Taxidermy.