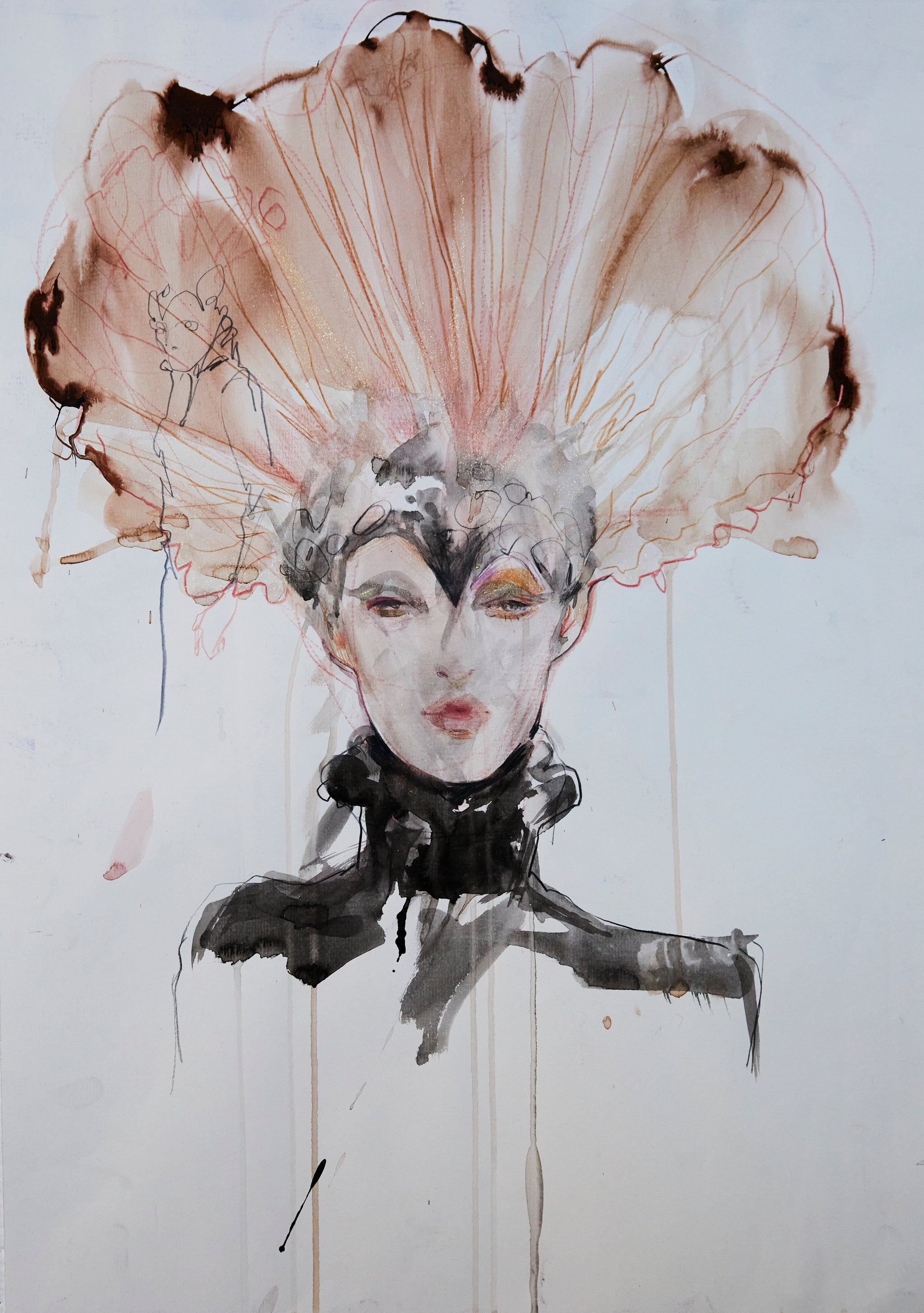 Drawing Daphne
Bringing the breathtaking private couture collection of the Honourable Daphne Guinness together with the art of fashion illustration, Nick Knight's latest music video for the cultural icon is brought to life with an exhibition at SHOWstudio.
For Guinness' latest music video, which will be screened as part of the exhibition, SHOWstudio invited 12 contemporary artists to draw live on set over 3 days, capturing the energy as per the artists' individual styles. Armed with their easels while forming a visual orchestra, they produced more than 300 life drawings depicting the breathtaking couture outfits worn by the musician. 
Intrigued by the illustrative creations, all of which served a kind of magical charm, we extended the invitation globally and asked a further 11 illustrators from our international network of artists to contribute their unique takes on individual looks worn in the music video. The resulting set of works remotely provide a counterpart to those from the shoot. SHOWstudio is proud to announce an exhibition showcasing a selection of these unique illustrative works which reimagine the multiple versions of Daphne on set.
Displaying couture looks from Guinness' extensive archive including designs by Alaïa, Alexander McQueen, Gucci, Chanel, Christian Lacroix, Gareth Pugh and Tom Ford, alongside a breadth of fashion illustrations, the exhibition space recreates the vibrancy that occurred on set. 
Selected from her personal archive by esteemed journalist and collector Alexander Fury, Drawing Daphne will see Fury provide analytical and in-depth insight in an edited video essay where he will unpick garments and objects from Guinness' archive to complement the exhibition. 
Hosted at SHOWstudio in central London, visitors are invited to experience the creative and extraordinarily  fashionable universe that is Daphne Guinness.